Bill Scheerer's Baltimore and Ohio - Monongah Division
The Monongah Division of the Baltimore and Ohio Railroad is located in my finished walkout basement. It represents operations between Cumberland, MD on the East and Parkersburg, WV on the West, with Grafton, WV being the center of activity between the two.
I did not attempt to recreate the prototype but rather to model the essence of the B&O in this part of the world. The Monongah Division is set in the 1950's, steam diesel transition era, with a + 240' single track main line and a + 40' branch line to Kingwood, West Virginia.
The layout is operated point-to-point with the end points being a common staging yard. Additional staging occurs on the Cowen Subdivision and the Fairmont Subdivision. The overall design is two level track plan with one helix hidden under mountains, visually transitioned into the scenery. Pushers and Helpers are used between Grafton and Cumberland.
The bench work is constructed as "stand alone", meaning it is an around-the-wall and peninsula layout, all free from the walls and ceiling for easy removal in the future if it becomes necessary.
Scenery is approximately 10-15% complete. The railroad is signaled with the B&O's unique approach lighted Color Position Light Signals (CPL) and the layout's 12 Controlled Points are operated from a reproduction GRS control machine built with parts from the D&RGW's Winter Park to Yarmony, CO machine.
I took this photo in 1966 when I was a summer job locomotive fireman which fueled my love of the B&O
Layout at a Glance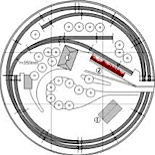 Layout at a glance
HO Scale.
Layout space of 530 Square Feet plus crew lounge and dispatcher's office.
Linear, partial double deck.
Height 42 -58 inches.
Basement stairs with handrail.
NCE DCC with all wireless "Hammerhead" throttles and sound in all locomotives.
Prototype style waybills.
Method of operation Between Cumberland and Parkersburg is Traffic Control System.
Telephone communication with Train Dispatcher.
Fast Clock ratio 4:1.
Operating Sessions are 12 scale hours.
Number of operators is 7 (1 Dispatcher, 1 Yardmaster and 5 Road Crews). 8 operators can be accommodated if one is a dispatcher working under the direction of a qualified dispatcher.
Layout room has a crew lounge and restroom
About the Layout Owner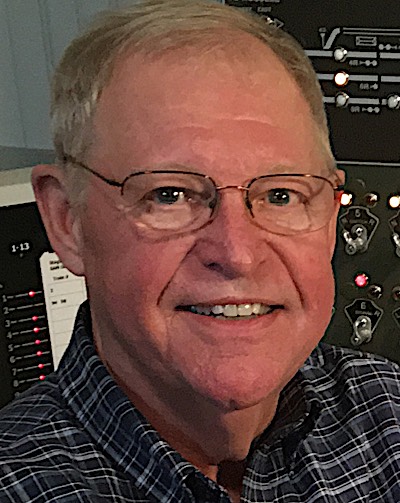 About the Layout Owner
For W. J. 'Bill' Scheerer, his childhood love of trains became both a lifelong hobby and career. He retired from CSX Transportation as its Chief Engineer Communications and Signals with system wide responsibility for Communications and Signal Design, Maintenance and Construction.

He also served Harmon Industries as Vice President Systems Operations and GE Transportation Global Signaling as its Chief Engineer. His love for the B&O stems from a summer job as a locomotive fireman on the Akron Chicago Division in 1966.

He is grateful for the unending support for both his career and his hobby by his wife Nancy who says "Railroading is not a career, it is a disease!"
Jobs on the Layout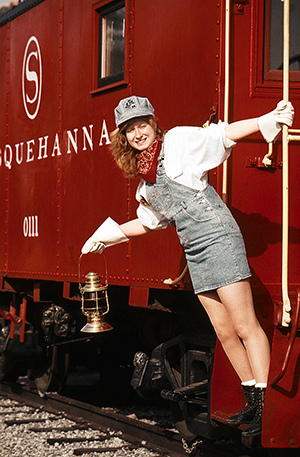 Jobs on the Layout
Train Dispatcher - To insure a fluid operation we usually operate with one of our local dispatchers. We can accommodate one visitor as a dispatcher working under the supervision of a qualified dispatcher.

Yard Master - Operates the yard engine and hostles engines for locals, pushers and helpers as necessary. Handles through train pickups and setouts, makes up local freights, switches cars as required, services Grafton customers.

Five road crews - Through freights, passenger trains local turns and mine run. Dispatcher lines routes and clears signals. Crews run on signal indication.

Crew Information Package
Attached is a Crew Information Package that will enhance your experience if you are al first time operator on the B&O Monongah Division.
It is recommended that those considering participating, or who have been assigned to participate, in the operation of the B&O Monongah Division take a few minutes to have a look at the attached documents that provide insight about my railroad and its operation.'
Coal train Extra 159 East passes the East End Pennsboro Controlled Point on its way to the docks at Curtis Bay in Baltimore.

A rail fan captures the head end of Train No. 12, The Metropolitan, just west of Tunnel No. 7. EMD E units 92A and 28 do the honors

The Capital Arms brings up the rear of No. 12

Coal train Extra 159 East enters the West End of Tunnel No. 7

Coal Train Extra 159 East meets Extra 4579 West at West End Salem, West Virginia

Kingwood, West Virginia and the mine located there are located at the end of the Kingwood Subdivision

Coal Train Extra 159 East passes the Standard Transformer Co. at Smithburg, West Virginia

Grafton, West Virginia is the center of activity on the Monongah Division and is the site of this engine terminal

Extra 4610, train Cumberland 96, Passes SY Tower as it leaves Parkersburg, West Virginia

I elected to make the double ended staging yard (Cumberland, MD on the east end and Parkersburg, WV on the west end visible complete with scenery. I just couldn't bring myself to hide these beautiful trains

The B&O Monongah Division is controlled from this GRS cTc Machine
Map and Directions to the Layout
You can click on the "show directions" tab to print directions from the host hotel to the layout. Or you can download them in Apple Maps or Google Maps on your portable device.
Prairie Rail 2018 Information