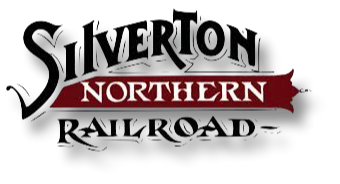 John Vandenberg's Denver & Rio Grande Western, Durango Division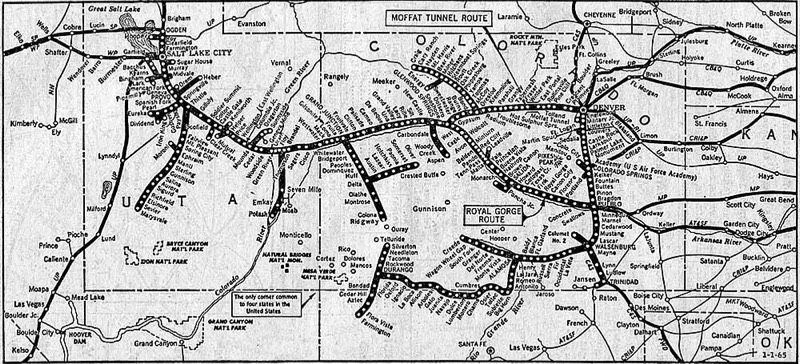 The Durango Division of the Denver and Rio Grande Western is based on the heart of narrow gauge country in America, Durango Colorado. From Durango the railroad serves the 4 points of the compass, north to Silverton,south to Farmington, east to Chama, and west to Dolores via the Rio Grande Southern. Silverton is also served by the Silverton Northern which ran northeast from Silverton to serve the mills at Silverlake, Eureka, and Animas Forks.

The HOn3 version of the Durango Division is being built as a double deck railroad with the Durango yard splitting the two decks. So far about three quarter of the track is completed. All the track on the upper deck, Durango yard, Rio Grande Southern, and Silverton Northern is complete and basic scenery is in on most of the upper deck. A temporary staging yard is in place on the lower deck to represent Chama. The line to Farmington is now complete so long pipe trains are now part of the operations.

The railroad is run with limited time table-train order without a dispatcher. Once the lower deck is in, a formal timetable will be published and a dispatcher will be needed.

In the era modeled, 1948-1953, only a couple of time table trains were left, with most freights run as extras. Currently most trains show up on the
timetable.

A 3-1 fast clock is used for three eight hour sessions to make up a full day. The operating system is Digitrax with some Soundtraxx decoders.

Six operators are needed to fully operate the railroad. The jobs include Yard master, two yard goats, and three road crews which operate the way freights, the Rio Grande Southern, and Silverton Northern.
Layout at a Glance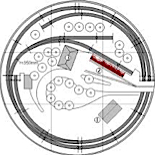 Layout at a glance
HOn3
Prototype-Denver and Rio Grande Western, Rio Grande Southern, Silverton Northern
Location: southwest Colorado and southwestern New Mexico
Size: 800 square feet
Layout design: double deck point to point.
Command system-Digitrax
Locomotives-All steam, about half with Soundtraxx decoders
Scenery-About 25 percent finished, 100 percent roughed in hardshell
Jobs on the Layout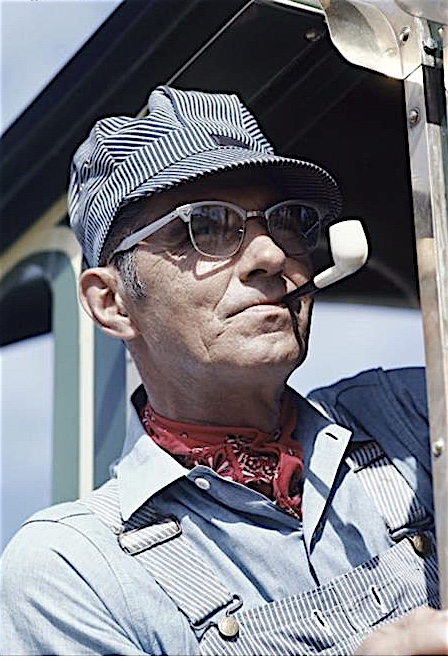 Jobs on the Layout
About the Layout Owner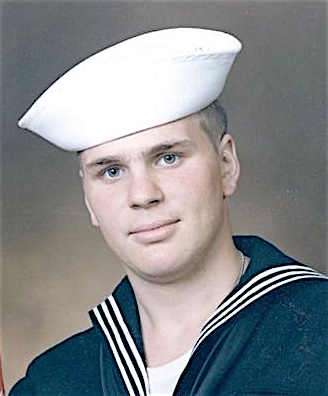 About the Layout Owner
I have been a model railroader for almost 32 of my 46 years, and been modeling narrow gauge for 31 of those years. Trains are in my blood. My grandfather worked at Kansas City Union Station for 35 years as a ticket agent. He rode every passenger train out of Union Station with the exception of the Santa Fe's Super Chief. He could not get a pass for it. My father worked for the Railway Express Agency for a few years and was a model railroader himself. That is until I became a toddler and learned to tear stuff up.

Like a lot of kids I loved to build models, mostly aircraft and ships. When I was bit older, my father let me "play" with his old trains. I began building my own railroad and not having a lot of money, I learned to scratch build early on. My interest in narrow gauge began when I picked up my first Narrow Gauge Gazette, which I still have, less its cover. The pictures of the D&RGW's huge K-36 and K-37 outside frame engines hooked me. They are just cool!!! A few rides on the Cumbres and Toltec and the Durango and Silverton cemented my love of narrow gauge.

After High School I did a stint in the US Navy as a Plane Captain and Jet Mechanic on EA-6B Prowlers. I had the honor to serve in the One Hundred and Thirty Seventh Tactical Electronic Warfare Squadron as an Aviation Machinist Mate Third Class. Navy life does not lend itself to model railroading, but I never lost interest and even built some rolling stock and even a structure or two.

After my stint in the Navy, I moved back to KC, my parents' house, and began my first real railroad while going to Junior College. The railroad grew as my studies continued at Emporia State University.

A Bachelor of Science in Social Science (I have a BS in BS) led me to the School of Education in Emporia and I became a teacher, for a while. When that did not work out, I landed where I am today, the Shop Manager at a local Andersen Window Dealer. All the while I was building structures, cars, and tinkering with engines.

The Durango Division is my fourth layout. My other interests include military history, aviation, NASCAR, joking around, Kansas City, having fun, and Game of Thrones (the books and the series).
Map and Directions to the Layout
You can click on the "show directions" tab to print directions from the host hotel to the layout. Or you can download them in Apple Maps or Google Maps on your portable device.
Prairie Rail 2018 Information