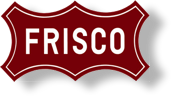 Rick McClellan's - Frisco Northern and Eastern Divisions
In the pirate days, "X" marked the spot where the treasure was buried, and when you run on Rick's Frisco layout, you will think that you've struck gold! The prototype Frisco track was fashioned in a huge "X" with their large Springfield Yard at the center of it all. Trains from Kansas City, St. Louis, Memphis, and southwestern locales all met at Springfield.

Rick's vision was to recreate the feeling of moving trains across the road, and you will certainly get plenty of time to watch the scenery pass by as you run a train from Kansas City south through the Kansas and Missouri landscapes, to Springfield and beyond.

If yard switching is your thing, the Frisco boasts five yards:
• 19th Street in Kansas City (inbound yard)
• Rosedale Yard in Kansas City (outbound yard)
• MKT's Glen Park in Kansas City
• Fort Scott Yard
• Springfield Yard

The Kansas City yards are a beehive of activity, as they serve as the primary northern destination for trains on the layout.

Trains run under Digitrax DCC with wireless throttles. Track authority is by verbal warrants from the Dispatcher. Communication is by a phone system. Many of the locomotive are fully equipped with sound.
Layout at a Glance
Jobs on the Layout
Tab 1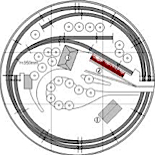 Layout at a glance
Layout Access: Walk out, walk up basement entrance from the north side of the house.
Size: 2500 Sq feet (please wear your comfortable shoes)
Design: Single deck, linear, walk around
Layout Height: 55 inches
Scale: HO
Era: 1950 (switching to 1975-1982 mid-year 2014)
Setting: Frisco main from KC to Springfield, MO and Springfield to Lebanon, MO
Mainline: 675 feet
Command Control: Digitrax simplex wireless (100%)
Sound: 30% of locomotive consists equipped with Tsunami sound decoders
Dispatching: Verbal Track Warrants
Communications: Telephone, party line
Car Forwarding: Old Line Graphics Car Cards
Work Shift: 8 hr. shifts compressed on a 3:1 ratio for a 2 hour 40 minute operating session
Scenery: 25% complete
Crew Size: 8

Tab 2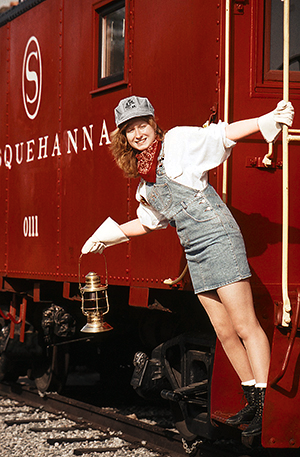 Jobs on the Layout
19th St Yard – SLSF KC yard that classifies inbound road traffic, transfers outbound cars to Rosedale Yard and switches local industries

Rosedale Yard - SLSF KC yard that receives inbound transfers, builds outbound road trains, transfers local cars to 19th St. Yard and switches local industries.

Glen Park Yard - MKT yard classifies inbounds, builds outbound trains and switches local industries.

Ft. Scott Yard – SLSF division point yard, builds north and south locals, switches local industries.

Springfield Yard – SLSF division point yard that routes cars between the four major terminals (St. Louis, KC, Tulsa and Memphis.) Classifies cars, works through trains and switches local industries. This yard requires a crew of two.

Road Crew – Works local industries between Ft. Scott and KC and Ft. Scott and Springfield. Runs mainline trains over the road. Also runs connecting road transfers to Rosedale yard. This job requires three crews.
Miscellaneous Switch Jobs - (1) MP Paola Local – Short local from MP KC Neff yard to Paola. This job works industries and returns to Neff. (2) Hill Job – Local switch job at 29th St in KCMO works several industries up a steep grade.


Map and Directions to the Layout
Prairie Rail 2018 Information